Are YOU READY to Run? We Made Shoes with the answer.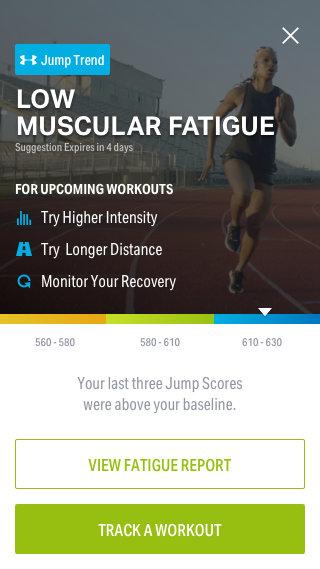 At Under Armour, we believe that recovery is the key to unlocking every athelete's peak performance. Even more so than weight lifted, miles run or games played.
In 2017, Connected Fitness launched a series of products that provide key technologies and innovations to aid with an athlete's recovery and to train smarter not harder.
After launching
version one of Connected Footwear
in 2016, the team began working dilligently on the next feature unlock. Based on R&D from our Athlete Performance & Innovation team, we were able to bring consumers a way to measure nueromuscular fatigue with a simple six jump test.
The test measures the body's ability to produce power. Jump height is measured by flight time with the shoe. If your body is fatigued your jump performance will be hindered. Once we establish a baseline for any athlete, taking this test in just a few minutes provides every athlete with a gauge of how hard to train on any given day.
Complete Experience (PDF)
Jump Test User Research (PDF)
USER RESEARCH & DESIGN
Breyna Braden
Eric Boam
Jonanthan Laas
Brian Lewis
Aarika Marino
Kyler Eastman
Cassie Wimberly
PRODUCT
J.D. Martin
Jason Whitson
INNOVATION
Kris Homsi
Michael Watts
Paul Winsper
DEVELOPMENT
MapMyRun Mobile Team
CF Devices Team
2019 — CAUGHT IN AUSTIN, TEXAS